Packing Tapes and Stickers
Packaging tape with overprint is the best form of advertising. This product builds a positive image of your company while fulfilling the function of securing the shipment. In addition to traditional self-adhesive packing tapes with a print for manual use, we also offer the highest quality solutions for sealing in automatic packaging lines. Prints on the tape are prepared according to the individual needs of customers – both in terms of resistance to temperature and stickiness.
_______________________________________________________________
Printed packaging tapes / personal printed packaging tapes, logo tapes, printed packaging tapes
Materials/thicknesses: BOPP (25, 28, 32mikr), PVC 33mikr, Kraft 60g
Roll widths: 25, 38, 48, 50, 75mm Roll scrolled: 66m
Adhesives: Acrylic (quiet/silent, low noise, noisy), Solvent, Freezer Hot-melt
Adhesive colours: transparent, white, brown
Printing methods: flexo printing up to 6 colours, surface print or sandwich)
We print all over the surface, which we call negative printing. Here are three options: all-blue background printed with in-round printing plate (e.g. blue background) + black logo on surface. Without 1-2mm white gap.
all-blue background except for the connection point of the printing plate, gap 1-2mm (here remains a white stripe)
all-blue background except for the connection point of the printing plate, gap 1-2mm (we can repaint the white stripe with additional paint and cliche, the result is not the same as with the in-round printing plate, but more cheaper. The location of the printed step is still visible, but not white.
Photopolymer cliche cost: 30€/colour, regular printing plate. 250€ in-round,
from 360 roll printing plate are free of charge. Photo printing 250€ (CMYK).
MOQ: 36 rolls (box) with 1-3 colour surface printing (ink applied to film)
MOQ: 144 rolls (4 boxes) 1-3 sandwich printing (ink on the underside of the film)
MOQ: 540 rolls (15 boxes) 4-6 sandwich printing
Quantity tolerance: +/-10% BOPP packaging tape, +/-0% PVC packaging tape
Delivery time: 25-35 days. Factors of influence: quantity, general load of production, special request of the customer. Availability of material!
Express delivery: 7-10 days. A premium of +30% to the cost of the roll.
Printed tapes
In the office, in the household and in any place that deals with the manufacture, storage and shipment of goods, strong printed tapes are necessary. It is thanks to them that you can secure the packaging during transport, properly mark it or tie loose elements together. There are several types of carriers, including extremely durable PVC and PP plastics, as well as paper that is an eco-friendly alternative to polypropylene and polyvinyl chloride.
Printed tapes in Plastrum
In our company you can buy versions with natural rubber glue (PP and PVC SOLVENT), which work especially well with corrugated or synthetic surfaces (HOT MELT), perfectly attaching to cardboard packaging. We also offer models based on acrylic made of durable polypropylene film – here it is worth paying attention to Low Noise products, characterized by quiet unwithing. We also offer ecological solutions, i.e. EKOSOLVENT paper products.
Most importantly, on the surface of each of the products we will print any graphics – using the configurator you can send a preliminary design. Regardless of whether you choose PVC, PP or paper, we guarantee that our tapes will be characterized by maximum adhesion and strength.
_______________________________________________________________
Labels with overprint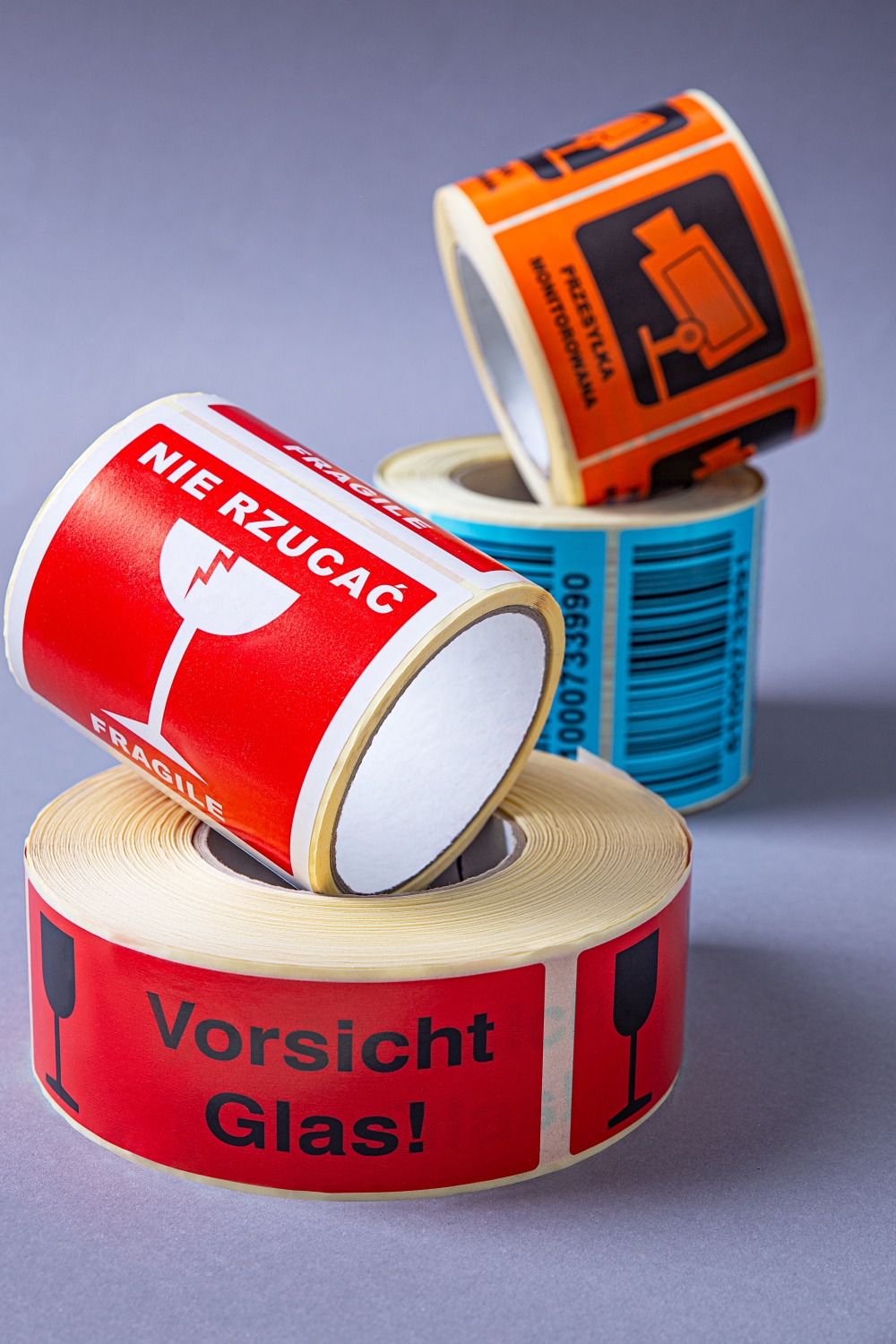 Product description:
Self-adhesive labels with individual printing are a convenient, legible and visually attractive way of marking shipments and packaging. The necessary information placed on the packaging can be combined with colorful graphics, thanks to which an attractive and inexpensive form of advertising is obtained. Self-adhesive labels on a roll with a standard print enable quick and visible marking of delicate shipments requiring special treatment during transport, storage or delivery.
Additional questions: berni@plastrum.ee or tel. +3725140521 Mr. Berni Valge